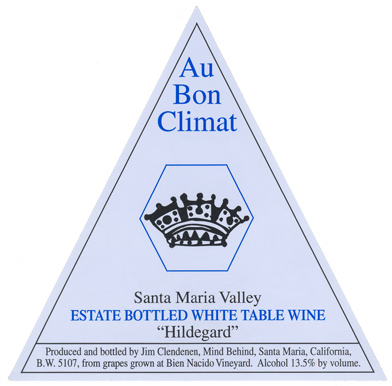 AU BON CLIMAT 2020 "Hildegard" White Blend
(50% Pinot Gris, 45% Pinot Blanc, 5% Aligoté)
Santa Maria Valley, California
*The cépage for this wine is based on Jim Clendenen's research of the original planting at the Corton Charlemagne Vineyard and is named in homage to Charlemagne's wife Hildegard. Legend tells us that she was the impetus to this historic "re-planting" of a section of the Grand Cru Corton Vineyard to white varietals.
VINEYARD
This wine is a blend of Pinot Beurot (a Burgundian clone of Pinot Gris) and Pinot Blanc grown at Bien Nacido Vineyard in plantings developed for Au Bon Climat, as well as Aligote grown at the estate Le Bon Climat Vineyard. "Hildegard" is a re-creation of the original planting of the Corton Charlemagne vineyard in 800 A.D.
CELLAR
The grapes are hand-picked, whole cluster pressed, and barrel fermented in all new François Freres barrels. Each lot finishes malo-lactic fermentation and is aged sur lie for 1 year unblended, then racked, blended, and put back in barrel to age a second year.  After 2 years, the wines are judiciously blended and released with the name Hildegard.
ACCOLADES
94 points – Wine Enthusiast
93 points – Antonio Galloni's Vinous Media
93 points - Jeb Dunnuck
ABC – Hildegard 2020 – Tech Sheet
ABC – Hildegard 2019 – Tech Sheet
ABC – Hildegard 2018 – Tech Sheet
ABC – Hildegard 2017 – Tech Sheet