Long Shadows
WINERY HISTORY
Long Shadows is a "dream project" conceived by Allen Shoup. Arguably no one has done more to help establish Washington State as a world class viticultural area than Allen. During his 20 years at the helm of Chateau St. Michelle, as their CEO, he saw the region grow from 4,000 acres of unheralded vines to 30,000 acres of vineyards spread over nine different AVAs. At times, Allen's purchases, for Stimson Lane accounted for up to 70% of all the fruit grown in the state. The beauty of this now is that Allen has long standing relationships with many of the best growers in Washington State.
When Allen retired in 2000, he was not nearly satisfied with his accomplishments. He had a vision to help take Washington State to the next level – to create an even greater awareness of just how spectacular a wine growing region Columbia Valley represents. His vision was to identify which varietals exemplified the "best of Washington" and partner with a world renowned winemaker who specializes in producing wines from each varietal or blend, to produce a single wine "without compromise" that showcases the pinnacle expression of that varietal in the context of Columbia Valley WA.
Allen partnered with Armin Diel (Poet's Leap Riesling), Randy Dunn (Feather Cabernet Sauvignon), Philippe Melka & Agustin Huneeus Sr. (Pirouette Bordeaux-style Blend), Michel Rolland (Pedestal Merlot), John Duval (Sequel Syrah), and Ambrogio & Giovanni Folonari (Saggi Sangiovese/Super Tuscan-style blend). He then put Gilles Nicault in as "quarterback" for this "dream team". Gilles is French born and trained, but came to the Columbia Valley in 1994 in search of a New World wine horizon. He has previously worked with some of the best producers in the state, most recently Rick Small at Woodward Canyon. When the opportunity to be the "right hand" for some of the most talented winemakers in the world presented itself – Gilles saw it as the educational experience of a lifetime. This acquired experience is evidenced in the amazing wine he makes for the Long Shadows' line up in partnership with Allen Shoup called Chester-Kidder, a complex and powerful Cabernet/Syrah blend.
FOUNDER BIO – Allen Shoup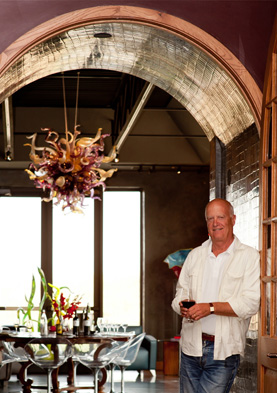 Allen is widely recognized as one of the founding fathers of the Washington wine industry. While CEO of Chateau St. Michelle/Stimson Lane he garnered worldwide fame for Washington wines, and became a spokesman for the entire region. He is the founder of the Washington Wine Institute and helped create the Washington Wine Commission.
Allen began his career in Modesto, California where he reported directly to Ernest Gallo. In 1979 he joined Chateau Ste. Michelle, then a small, unnoticed winery in Woodenville, Washington. From that humble starting point he developed Stimson Lane Wineries and Estates, by building and acquiring wineries throughout Columbia Valley. These included a second Ste. Michelle winery for reds at Canoe Ridge, the state's largest winery – Columbia Crest, the nations' third largest sparkling wine facility – Domaine Ste. Michelle, and Snowqualmie, among others. Under his direction Stimson Lane also expanded into California, acquiring both Villa Mt. Eden and Conn Creek in Napa Valley.
Allen also led the way for international collaborative efforts, developing joint venture projects with Brian Croser from Australia, Piero Antinori from Tuscany, and Dr. Ernst Loosen from Germany. In addition to the many organizations he founded statewide, he helped organize the American Vintners Association, he held seats on the California Wine Institute Board, The Century Council, The Presidents Forum, and Copia. He is also the founding chairman of AWARE (Association for Wine Accurate Research and Education).