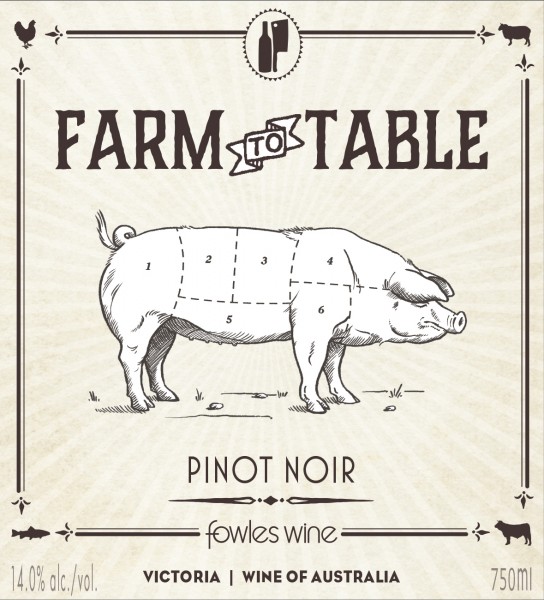 FARM to TABLE 2017 Pinot Noir
Strathbogie Ranges, Victoria, Australia
VINEYARD
All of the fruit is sourced from Fowles estate vineyards in the super cool-climate Strathbogie Ranges of Central Victoria at an elevation of over 1,600 feet.  The Fowles family is very committed to ethical and sustainable viticultural practices, as well as hunting and living off the 800 acre expanse they occupy in this remote region, Matt Fowles launched the Farm to Table range of wines to help promote this deep connection to the land.
Vintage Comments: 2017 was an extremely late and cold year. This was of benefit for some varieties, and Pinot Noir was one of them. The cool conditions allowed nice delicate strawberry fruit characters to develop at relatively low sugar levels. Despite the late vintage we experienced unusually fast malolactic fermentations which has allowed us to get the lighter style 2017 reds bottle ready much earlier than normal.
CELLAR
This Pinot Noir was fermented in sweep-arm stainless steel fermenters between 68-86°F to maximize gentle flavor and color extraction, while preserving primary fruit flavors.  Aged for 5 months in French oak barrels.
PH 3.55               T/A 6.0 g/L               Alc 13.5%
FARM to TABLE – Pinot Noir – Label
FARM to TABLE – Pinot Noir 2017 – Tech Sheet
FARM to TABLE – Pinot Noir 2016 – Tech Sheet