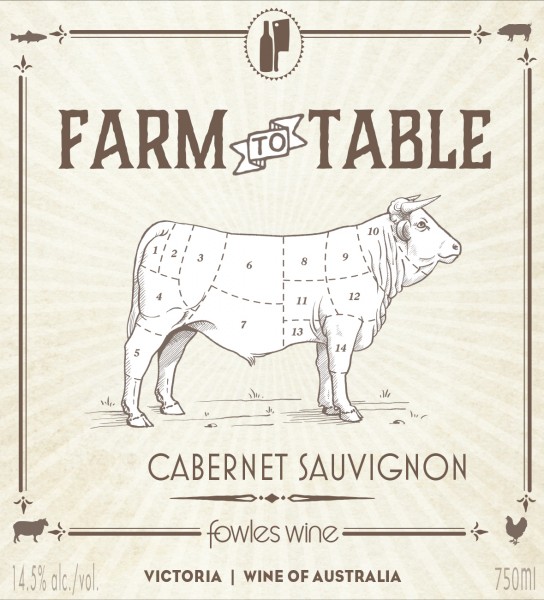 FARM to TABLE 2016 Cabernet Sauvignon
Strathbogie Ranges, Victoria, Australia
VINEYARD
All of the fruit is sourced from Fowles estate vineyards in the super cool-climate Strathbogie Ranges of Central Victoria at an elevation of over 1600 feet.  The Fowles family is very committed to ethical and sustainable viticultural practices, as well as hunting and living off the 800 acre expanse they occupy in this remote region, Matt Fowles launched the Farm to Table range of wines to help promote this deep connection to the land.
CELLAR
The wine is fermented in high tech, stainless steel, sweep-arm fermenters and at a cool 77° F to maximize flavor and color.  The wine was matured for 9 months using a combination of new and used French oak (80%) and American oak (20%) barrels.
PH 3.5                T/A 6.6 g/L               Alc 14.5%
Vintage Comments: 2016 was an excellent red wine vintage suited to full-bodied red wines. Wines of great color, flavor and length were produced. Cabernet tannins are beautifully ripe and soft making these wines very approachable as young wines.
FARM to TABLE – Cabernet Sauvignon – Bottle Shot
FARM to TABLE – Cabernet Sauvignon 2016 – Tech Sheet
Farm To Table – Cabernet Sauvignon NV – POS
FARM to TABLE – Cabernet Sauvignon 2015 – Tech Sheet