Clendenen Family Vineyards
WINERY HISTORY
Jim Clendenen created the Clendenen Family Vineyards label in 2000 as a vehicle to bring many of his most artisan and experimental wines to market. All are produced in very small quantities, many of these wines are crafted from unique varietals grown primarily on his organically farmed Le Bon Climat and Rancho La Cuna Vineyards. The project has expanded to include special plantings at Bien Nacido Vineyard as well. While two of the jewels from this project are Jim's best expressions of Chardonnay and Pinot Noir, this "varietal playground" also includes benchmark examples of Nebbiolo, Tocai Friulano, Viognier, Petit Verdot, Sauvignon Blanc, and an amazing Syrah/Viognier blend.  As always, the hallmark of Jim's wines is balance.
FOUNDER/WINEMAKER BIO – Jim Clendenen, The Mind Behind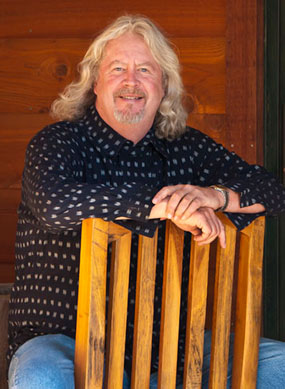 Jim graduated from UC Santa Barbara with honors in a Pre-Law program in 1976. And no doubt Jim would have won many arguments throughout what would have surely been an illustrious career in the courtroom, but his path took an unexpected turn while visiting France during his "junior year abroad" in 1974.  He discovered that there was a life beyond tacos and beer.
Upon graduation, he rewarded himself with a one month stay in Burgundy and Champagne which sealed the deal on his fate to become one of the pioneers of the Central Coast fine wine world. After a quick initiation stint as a "cellar rat" voraciously learning everything he could about the process of wine making from dirt to barrels, beginning with the 1978 harvest Jim stepped in as the Assistant Winemaker at Zaca Mesa Winery – one of the first estate wineries established in Santa Barbara County. Jim being a firm believer at the time that anything worth doing is worth doing to excess, in 1981 he found a way to work 3 harvests in one year – directing the crush at wineries in Australia and France as well as on his home turf. This masochistic feat convinced him he was ready to start his own winery. He launched Au Bon Climat the following year.
He began working with his now ex-partner Adam Tolmach in a leased space. He quickly cultivated a reputation for making some of the best Burgundian-style Chardonnay and Pinot Noir in the country. He also made delicious Pinot Blanc and Pinot Gris. By 1989 Robert Parker included Au Bon Climat on his "short list" of Best Wineries in the World. The honors and accolades have kept coming ever since. In 1991 Oz Clark selected Jim as one of 50 world-wide Creators of Modern Classic Wines. The Los Angeles Times selected him as "Winemaker of the Year" in 1992. Food & Wine Magazine selected Jim as "Winemaker of the Year" in 2001. The leading wine publication in Germany Wein Gourmet named Jim "Winemaker of the World" in 2004. And in 2007 Jim was inducted into the James Beard Foundation's "Who's Who of Food & Beverage in America". To this day, rarely a year goes by that Jim is not quoted in either a wine or mainstream publication as a sage sharing his passionate philosophy of producing balanced wines that are compatible with food.  A style that has fallen in and out of favor over his 35 years of wine making, but never once did he consider veering from his course.