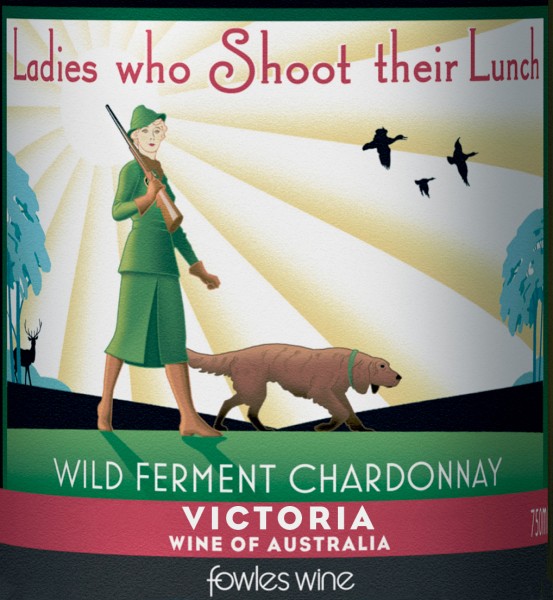 LADIES WHO SHOOT THEIR LUNCH 2018 "Wild Ferment" Chardonnay
Victoria, Australia
Fowles Wine vineyards and winery are located in the dramatic granite landscape of Strathbogie Ranges region of Victoria, Australia. The Strathbogie Ranges is characterized by massive granite boulders – the very boulders that have given rise, over millions of years, to the sandy loam soils in which the vines grow.
VINEYARD
The fruit for this wine was picked in the first week of March, 2018 from Green Stone Vineyard (60%) in the Yarra Valley and Upton Run Vineyard (40%) in the Strathbogie Ranges. The grapes were destemmed and crushed using open rollers to minimize phenolic extraction to help create a more delicate wine
Vintage Comments: 2018 was an excellent year all round. Conditions were mild with average rainfall throughout the year which allowed the grapes to ripen evenly. Yields were low and the development of flavor and sugars throughout the ripening process was balanced.

CELLAR
A combination of old-world juice handling techniques including oxidative juice handling and fermentation on solids to add texture and complexity. This wine was wild fermented in barrels. Wild yeast adds complexity and texture to the wine. Barrel fermentation also adds complexity and texture and assists with the integration of oak. A small portion of the wine (10%) underwent malolactic fermentation to soften the natural acids in the grapes, encourage lovely butterscotch aromas, and enhance the body and flavor. We matured in new French oak (30%) and old French oak (30% one-year-old, 30% two-year-old, 10% other) for 11 months.
ACCOLADES
90 points – Wine Spectator
Ladies Who Shoot – Chardonnay – Bottle Shot
Ladies Who Shoot – Chardonnay 2018 – Tech Sheet
Ladies Who Shoot – Chardonnay 2018 – POS
Ladies Who Shoot – Chardonnay 2016 – Tech Sheet
Ladies Who Shoot – Chardonnay 2016 – POS