Tokaj, Hungary was listed as #1 in Bloomberg's aticle "The World's Next Big Wine Regions". Siting that, "The latest craze, though, is a newly available dry version of furmint, Hungary's alternative to chardonnay and riesling."
Patricius is certainly on the cutting edge of this new dry movement with a full line-up of estate bottled dry wines – Dry Furmint, Harslevelu, and Yellow Muscat.
The World's Next Big Wine Regions (Full Article)
By Elin McCoy
Bloomberg, February 23, 2015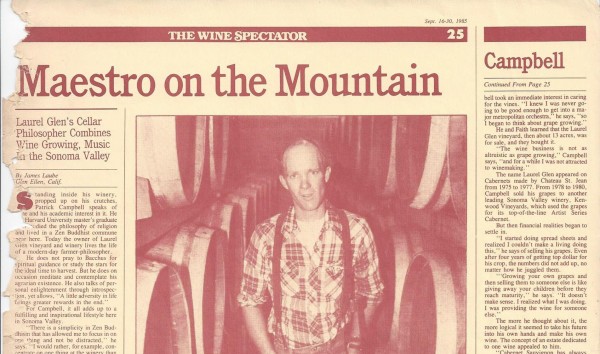 Check out this amazing throwback article from the September 1985 Wine Spectator featuring Patrick Campbell after his first release of Laurel Glen Vineyard Sonoma Mountain Cabernet Sauvignon. The beginning of the legend.
This "cellar philosopher" is still composing some amazing wines!
Maestro on the Mountain – Patrick Campbell – Wine Spectator 1985
             By James Laube