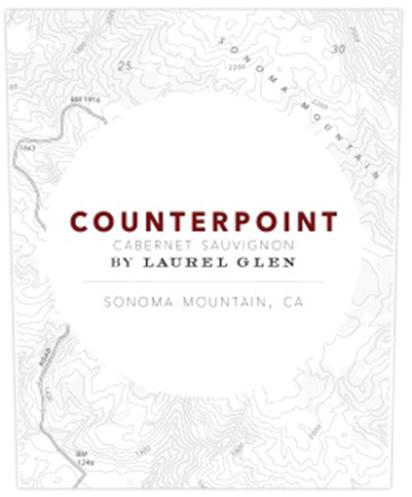 LAUREL GLEN Counterpoint 2016 Cabernet Sauvignon
Sonoma Mountain, California
80% Cabernet Sauvignon, 20% Merlot
VINEYARD
Laurel Glen Vineyard, a thousand feet up the east facing slopes of Sonoma Mountain, has long been considered one of the iconic Cabernet vineyards of California. Originally planted in the 1880's; the present day vineyard was developed in the 1970's by Sonoma wine pioneer Patrick Campbell. The vineyard's combination of high altitude, eastern exposure, rocky soils, and small diurnal temperature swings combine to produce very distinctive wines. The Laurel Glen clone of Cabernet Sauvignon was recognized as a unique clone by UC Davis in the mid-1990's.
Beginning in 2011, Laurel Glen introduced organic farming practices at Laurel Glen Vineyard and upgraded pruning and trellising methods in order to improve concentration and consistency. As the changes made in the vineyard take effect, the quality of the fruit has increased, but the quantity of the fruit has decreased.
In order to continue making the same amount of Laurel Glen Counterpoint Cabernet as before, Laurel Glen has devleoped relationships with quality oriented neighbors on Sonoma Mountain. In addition to fruit from our estate vineyard, the 2016 Counterpoint benefits from Merlot from the venerable Pickberry Vineyard, now farmed by Ned Hill.
Vintage Notes: After years of drought, we finally had enough rain in 2016 to recharge the soils. Due to unusually warm weather in February, bud break was in February instead of March, as is normal for us at Laurel Glen Vineyard. Bloom, berry set and veraison were all three weeks early as well. Because the growing season started early, even though harvest also started a little earlier than normal, on September 20th, there was plenty of time for complex flavor and color development in 2016.
CELLAR
The fruit undergoes maceration for two to four days until natural fermentation begins in small open top fermenters. It is manually punched down three times daily and the cap is irrigated, but otherwise receives gentle handling with emphasis on gravity flow. The wine is aged 20 months in predominantly Taransaud French oak barrels and a small number of Canton American oak barrels.  Forty percent of the barrels used are new.
LGV – Counterpoint 2016 – Tech Sheet
LGV – Counterpoint 2015 – Tech Sheet
LGV – Counterpoint 2014 – Tech Sheet