Truchard Vineyards
WINERY HISTORY
Coming Soon…
FOUNDER BIO – Tony & Jo Ann Truchard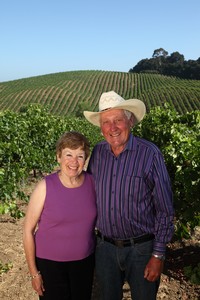 Tony and Jo Ann Truchard both grew up in Texas and had plans to spend most of their lives there.  They both graduated from the University of Texas in Austin.  Jo Ann was teaching school in Austin and Tony was getting ready to start Medical School at Southwestern Medical School in Dallas when they met at a country dance in Jo Ann's hometown of La Grange, Texas.  They married in 1964.  After graduating from Southwestern, Tony completed his internship through the Army at Walter Reed Memorial and his residency at Brooke General Hospital in San Antonio.
Tony then received orders to report to Korea for a two year tour; however, a very pregnant Jo Ann changed all of that by slipping on a grape in the grocery store in San Antonio and breaking her knee.  Four days later, sporting a full leg cast, Jo Ann delivered their fourth baby and their lives changed.  Instead of Korea, the Army decided to send Tony to Northern California to serve as the medical commander for a base near the Nevada border.
During Tony's tour in California the Truchard family took a number of road trips.  On one such trip, after checking in at the Presidio in San Francisco, the family drove up to the Napa Valley to see the vineyards.  Tony thought it would be "fun" to buy some Napa property and plant a vineyard.  During the next two decades, Tony continued to buy property until he had 400 adjoining acres.  At the same time, their family grew to include 4 daughters and 2 sons.