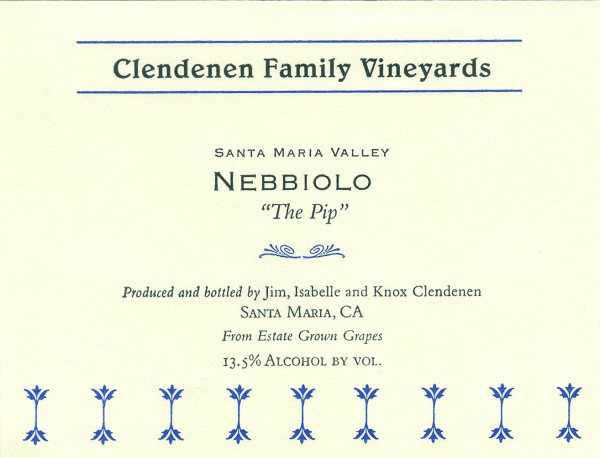 CLENDENEN FAMILY 2011 "The Pip" Nebbiolo
"Bien Nacido Vineyard"
Santa Maria Valley, California
*This cuvee is named in homage to Jim Clendenen's deceased, amazing Border Collie "Pip", former winery mascot.
VINEYARD
Sourced from a 2 acre site planted to Nebbiolo at Bien Nacido Vineyard in 1994 under Jim Clendenen's direction. The site is cool, breezy, and on a hillside where the soil is gravelly and shallow—all contributing to the intensity of the fruit. These plantings were originally part of an Italian varietal project that Jim had called Il Podere.
CELLAR
"The Pip" cuvee is an early barrel selection from the Clendenen Family "Bricco Buon Natale" Nebbiolo program. This cuvee is aged about 4 years in 500L Hungarian oak puncheons (the regular "Bricco Buon Natale" Nebbiolo typically sees 6-7 years in barrel).