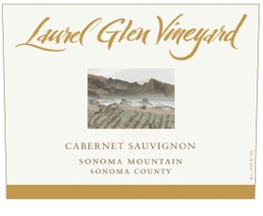 LAUREL GLEN VINEYARD 2008 Cabernet Sauvignon
Sonoma Mountain, California
*A limited quantity of this library vintage has been released for sale.
VINEYARD
This is 100% Cabernet Sauvignon sourced exclusively from the Laurel Glen Vineyard.  The vineyard sits at an elevation of 800–1000 feet on a southeast-facing slope of Sonoma Mountain above the fog line. This optimal exposure captures the first rays of morning sunlight and avoids the burning heat of late afternoon. The thin, rocky, complex soils of Sonoma Mountain promote efficient water drainage and restrain excess vigor. Production is low, typically two to three tons per acre.
VINTAGE NOTES
The 2008 growing season began with an early bud break, followed by the worst frost season in decades. Fortunately, our mountain-side vineyard is better protected from frost damage than the valley floor because freezing air slides downhill. Cluster development was hardly affected and the vineyard set an average crop. The summer began and ended with a heat spike, which kept berry size small. Harvest started on September 28.
CURRENT TASTING NOTES
"The 2008 Laurel Glen Vineyard Cabernet Sauvignon exhibits deep color, great intensity and a sweet nose of blue and black fruits intermixed with smoky cedar, cola and crushed rock minerality. The entry is plush with ripe Bing cherry and warm baking spices, lifted by a fresh acidity and fine-grained tannins. Rich, layered and full-bodied, this broad, savory 2008 will remain agile and fresh for years to come." – Randall Watkins, Winemaker
LGV – Estate Cab 2008 – Tech Sheet