Lemelson Vineyards
WINERY HISTORY
When Eric Lemelson first moved west to attend Reed College in Portland Oregon in 1979, it initiated a cascade of serendipitous events that have culminated in his establishing Lemelson Vineyards – a "no compromise" Pinot Noir estate in the Yamhill-Carlton region of Oregon's emerging wine industry in the late 1990's. Eric's strong belief in environmental conservation that led him initially to a successful career in environmental law, has manifested itself in his serious commitment to "Certified Oregon Tilth" organic viticultural practices in all of his seven vineyard sites.
While in law school at Lewis & Clark in the early 1990s, he purchased a farm on the eastern edge of Oregon wine country primarily to take up residence in "the country".  After several in depth conversations with local vintners, he discovered that his farm's southeast facing slopes and volcanic soils were perfectly suited for growing wine grapes. In 1995 he planted two acres of Pinot Noir and Pinot Gris in what is now called his Chestnut Hill Vineyard.
Presently he owns seven vineyards strategically planted in three different AVAs – Dundee Hills, Chehalem Mountain, and Yamhill-Carlton, which is where he chose to build his winery. In addition to working in multiple AVAs, Eric has chosen to vary the elevations of his sites from 220 feet up to 970 feet. A believer in the intensity that can be obtained from high elevation fruit, he is also wary of the mercurial climate in the Willamette Valley that can wreak havoc without notice in some vintages. He is also a proponent of clonal diversity, planting both Dijon and Heritage clones (Pommard & Wadenswil) in his vineyards. Though he produces single vineyard examples that express the best of each of these two worlds, his flagship Pinot Noir, "Thea's Selection", named after his mother, is a blend of all three AVAs, from multiple sites, at various elevations, planted to both Dijon and Heritage clones. "Thea's Selection" is a true masterpiece in the art of blending.
The first vintage at Lemelson was 1999, and though this winery began with a mission to produce great Pinot Noir, it has since expanded to include small quantities of equally high quality Chardonnay, Pinot Gris, and Riesling.
The commitment to quality begins in the vineyard but certainly carries over into the cellar where Eric's fanatical attention to every detail to improve quality encouraged him to channel some of his father's inventive energy (noted independent inventor Jerome Lemelson) to create a "one of a kind" mobile sorting table to ensure that only the best fruit makes it into one of his cuvees.
FOUNDER BIO – Eric Lemelson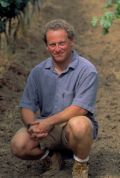 Eric Lemelson is the oldest son of noted independent inventor Jerome Lemelson, whose 605 patents made him one of the most prolific inventors in American history with contributions that led to the development of innovations such as industrial robots, cordless telephones, fax machines, VCRs, and camcorders to name a few. Eric grew up in NJ but instantly felt like Oregon became his true "home" while attending Reed College in Portland beginning in 1979.
Upon graduation Eric interned for an Oregon congressman, which led to positions on several state and national political campaigns, as well as in the state legislature. After a brief hiatus playing guitar with a few local rock & roll bands he enrolled in law school at Lewis and Clark in Portland, where he earned his J.D. specializing in environmental law. It was during his time in law school that he purchased a farm on the eastern edge of the Willamette Valley. Once he discovered that the southeast facing slopes and soil profile on his property were ideal for growing wine grapes, he planted two acres of Pinot Noir and Pinot Gris in 1995.
Eric's commitment to environmental conservation post graduation led to a position running a research center on water law for several years. He also continued building on his dream to create a "no compromise" Pinot Noir Estate. He has established six strategically planted vineyards, (all Oregon Tilth Certified Organic) in three different AVA's – Chehalem Mountain, Dundee Hills, and Yamhill-Carlton, where he has built his winery. His first commercial vintage was 1999, and though the focus at Lemelson Vineyards is still Pinot Noir, he has added small quantities of Chardonnay, Pinot Gris, and Riesling to his lineup.
Eric has continued with his commitment to reduce environmental impact by developing "Net Zero Energy" dwellings that produce more energy than they consume.  His home in Portland is a model for this concept and he has begun work on industrial models to deliver the same level of efficiency. Eric also continues the philanthropic mission that his father undertook, by overseeing the Lemelson Foundation's work to promote young inventors with a vision to impact our world in a positive way.